Juego Cut the Buttons HD para iPad
Cut the Buttons es un juego en el que pondremos a prueba nuestra habilidad a la hora de cortar botones con nuestras tijeras virtuales en la pantalla del iPad.
Cut the Buttons es, como el propio nombre indica, un juego en el que deberemos de cortar botones, así de simple, en la pantalla de nuestro iPad. Es uno de los juegos que verdaderamente aprovecha la pantalla multitouch de nuestro dispositivo.
Para jugar a Cut the Buttons, sólo tendremos que coger las tijeras que se encuentran en la pantalla con nuestros dos dedos y comenzar a cortar los botónes que saldrán cosidos en diferentes trozos de tela de la pantalla. No hay problema si eres zurdo, ya que en las configuraciones del juego, podemos poner las tijeras al otro lado de la pantalla.
La cosa se complica un poco más cuando tenemos que cortar los botones con Cut the Buttons, e intentar que los botones caigan dentro de una taza que aparece en la pantalla, por lo que tenemos que jugar con las tijeras para conseguir ese objetivo e ir ganando más y más puntos.
A medida que vayamos cogiendo más experiencia, podremos cortar varios botones a la vez, lo que hará que nuestros puntos se multipliquen y así ir batiendo todos los records.
En Cut the Buttons disfrutaremos de modo individual y modo multijugador y, además, en cada uno de ellos tendremos el modo clásico y el modo arcade para exprimir este juego y disfrutar de infinidad de horas de juego y entretenimiento.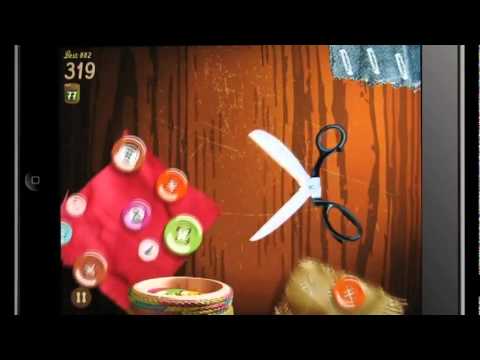 Cut the Buttons está disponible en la AppStore por 1,59€ y podemos descargarlo directamente haciendo click en el siguiente enlace:
[app 474137540]