Rope Rescue HD para iPad de Chillingo
Rope Rescue HD para iPad es un juego en el que tendremos que ir liberando a los bebés pájaro de las jaulas guiando el estremo de la cuerda hasta su ubicación final.
Chillingo es la empresa que ha desarrollado éxitos tan impresionantes en juegos para dispositivos iOS como Cut the Rope y Cut the Rope: Experiments y ahora vuelve al mercado con Rope Rescue HD.
En Rope Rescue HD tendremos que dirigir a un pájaro que leva una cuerda en su pico, y conseguir liberar a los bebés de pájaro que están enjaulados en cada nivel. Para ello tendremos que llevar el extremo de la cuerda a través de una serie de engranajes y llevarlo hasta la jaula para liberar a nuestros amigos.
Las características principales de esta aplicación para el iPad son las siguientes:
más de 60 niveles hipnotizadores que nos mantendrán entretenidos durante muchas horas
juego adictivo con múltiples soluciones para cada nivel
evita los cuchillos voladores, los cañones de fuego y por supuesto, a los malvados murciélagos
recoge o comprar mariposas para desbloquear niveles o para que nos proporcionen pistas que nos van a ayudar en la aventura.
visita el santuario de aves para ver los bebés de pájaro que ya has rescatado
desafía a tus amigos para conseguir las mejores puntuaciones
Podemos ver el trailer del juego para visualizar cómo se desarrolla y cómo son los movimientos que podemos realizar: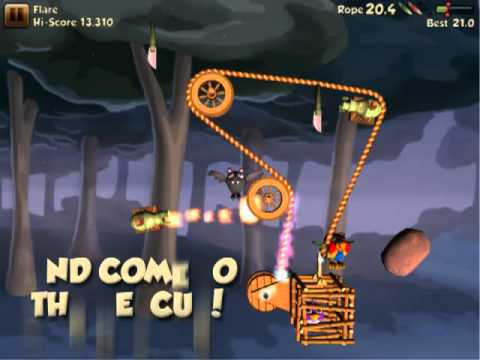 Para comprar Rope Rescue HD, basta con hacer click en la imagen que mostramos a continuación: