Aventura gráfica Reversion The Escape para el iPad
Reversion es una nueva aventura gráfica para el iPad con puzzles y acertijos que resolver. The Escape es el primer capítulo de esta aventura.
Reversion es un nuevo juego de aventura gráfica para el iPad desarrollada por BulkPix en colaboración con 3F, unos expertos en gráficos en tres dimensiones para dispositivos móviles, que ha sido publicada hace unos días en la AppStore con un alto número de compras por los usuarios de esta tienda de aplicaciones.
La aventura de Reversion es totalmente nueva y su primer capítulo disponible es The Escape, en el que nos encontraremos en el año 2035 en la ciudad de Buenos Aires en Argentina, donde esteremos recluidos en un hospital del que tendremos que intentar escaparnos mientras intentamos recordar por qué estamos allí.
En esta aventura gráfica, que también está disponible para PC, disfrutaremos de diferentes puzzles y acertijos que resolver durante el juego y tendremos disponible un sistema de pistas por si nos quedamos atascados, aunque no recomendamos su uso ya que el juego es bastante corto y si no pasamos tiempo en estos acertijos, en pocas horas lo tendremos pasado.
Las principales características del juego Reversion – The Escape para el iPad son las siguientes:
ambientación sólo superada por su excelente banda de sonido
ilustraciones originales en formato de caricatura
la interesante y detallada historia incluye personajes sumamente carismáticos
enigmas desafiantes que te atraparán alrededor de 4 horas
si no consigues acabar los acertijos y puzzles, 'hints' te ayudarán a resolverlos
6 idiomas disponibles (Alemán, Chino, Español, Francés, Inglés, Italiano)
interfaz específica para cada dispositivo (inclusive el nuevo iPhone 5)
juego para todos los públicos bien sea para grandes como para niños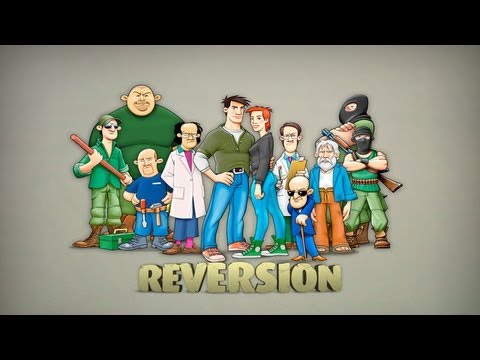 El primer capítulo de Reversion se ha titulado The Escape y podemos descargarlo en la AppStore por 2,39€ considerando que la aplicación es universal y podemos jugar también en nuestro iPhone o en el iPod Touch. Para comprarlo, basta con hacer click en el siguiente enlace a la tienda de aplicaciones de Apple:
[app 550956895]